I knew there was another reason to play with yarn! Once I figure the hat thing out, I'll definitely be donating some knit/crochet hats to our local hospital for the nurses to give to newborns - I still have the one that Sydney received and loved that someone had actually made it! Here's another worthwhile group to support:
ANGELS FOR HOPE
. Here's the ditty that is on their home page:
Angels for Hope is a nonprofit organization that offers free crocheted angels for anyone in need of hope. We attach a small card with the angel to say to an injured or ill person, you are not alone, others do care, and you are in our thoughts and prayers. At your request we can let it be known that you requested the item. In addition to crocheted angels, we also offer butterflies and smiley faces. We reached our goal of touching 50,000 lives in 2005!!!!! We were so excited. So we have set a new goal for 2006: to touch 65,000 lives!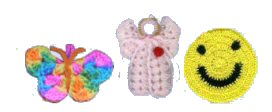 You can help them by donating money, supplies, or crocheted goodies - there are links on their site to get you going. Check it out!
On another note, last night was the monthly mom's night out where a handful of us local mom's get together and eat, drink, and
be without child
...Usually we treat ourselves to a nice dinner at a
local eatery
, but one mom's hubby was away so she decided to host. I think we all actually prefer this set-up anyways :) We show up essentially in our jammies and lounge around for the night eating sinful desserts and drinking wine. Ahhhh.... *AND* it's always an excuse to make my favorite dessert of all time: CHEESECAKE! I shared this recipe a few months ago with
Tara
, but I think it's only fair to spread the word. What's the point of a fantastic recipe if it is kept a secret? Warning: it's not a light recipe by any means.... I am a believer in the "real thing" when it comes to dessert!
1 ¼ cups graham cracker crumbs
¼ cup sugar
¼ cup butter (melted)
5 packages (8 oz each) cream cheese
1 ¾ cups sugar
3 tablespoons flour
Grated 1 rind of lemon
3 tablespoons vanilla extract
5 whole eggs
2 egg yolks
¼ cup heavy cream
Preheat oven to 500 degrees F.
Mix graham cracker crumbs, sugar and butter. Butter a 10 inch spring form pan 2 ¼ inches deep and press crumb mixture onto bottom and sides of pan. Beat cheese until fluffy. Mix sugar and flour; gradually blend into cheese. Add grated rinds and vanilla extract. Add eggs and egg yolks one at a time, beating well after each. Stir in cream. Turn into crust.
Bake in oven at 500 degrees for 10 minutes. Then reduce heat to 200 degrees and bake ~ 1 hour longer (until center is just about set – barely wiggly when you tap it). Remove from oven and allow cake to cool. Refrigerate until cold. Garnish as desired (I usually add sliced strawberries/raspberries and sometimes caramel).