Syd and I headed to Joanne's a few days ago to stock up on some notions and interfacing (gotta love their 50% off sales - and if you didn't know about their VIP program, you should check it out! If you can prove that you're a legit crafting company - show some tax forms, etc. - you can get a card that gives you an extra 15% off *everything* - even sale items!).
Anyways, b/c we don't get to Joanne's very often, and Syd was in a fantastic shopping mood, we decided to browse for a bit and see if anything struck our fancy. Low-and-behold, we stumbled across some Robert Kaufman and Alexander Henry prints! I couldn't believe it... They didn't have a huge selection, but just enough to make my day :) I had been eyeing a few of the prints online for a while, but hadn't bought any (I need more fabric like we need more snow....). It's nice to now have a few new things to add to the collection!
The first print (starting on the left) is one that just makes me smile :) Will be perfect for some cute dresses and kiddie aprons. The second one I was introduced to by ANGRY CHICKEN in
this post
and was immediately smitten with the fabric. The third one... well, I've been on the hunt for some cute cherry fabric and this is one of the best that I've found yet! There's some
cute baby corduroy with cherries
on it, but I just can't make myself get it... that's like signing up for a few more months of winter!
Alexander Henry Blue "Apples and Pears"
Alexander Henry "Sunny Side"
Robert Kaufman Blue Cherries (Fruit Basket Collection)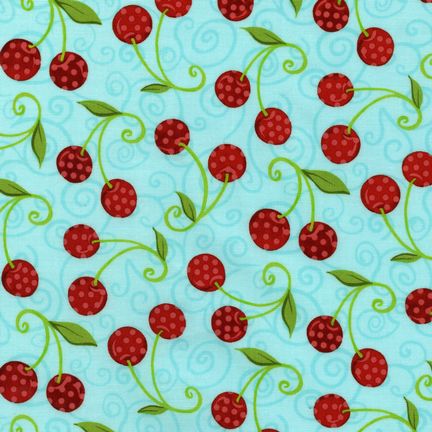 As for what's up next on the project line, I have a few more baby gifts to finish up, a bag for Cathy in Canada (I'll be making a patchwork one
like this
, but with
pink/green Lotus fabric
s - I can't wait to see how it turns out!), and for little 'ol me, I'm going to at last make the Madison Bag (Downtown Purse) from AB's Cherry Wall Flower and Cherry Full Moon Polka Dot). I've been itching to make it since I saw the new Madison Bag pattern cover a few months ago - perfect for spring!
Hope everyone had a fantastic Easter! It was pretty quiet here - Syd had a belly bug and I was under the weather a bit as well, so we took advantage of the free HBO that Direct TV had over the weekend. Perfect timing :)
PS: Almost forgot to mention that Erin from
DIAPER DAISY
received my wetbags over the weekend and posted them yesterday on her site! If you've ever thought about trying cloth diapers, her site gives lots of info about the
benefits of cloth
, and she's super helpful with finding ones that will work for you. We recently tried the
Happy Heinies
and love them. Also check out the
BABY LEGS
- Syd has some pink ones now and they are adorable (and make diaper changes a snap). There are so many clever moms out there :)