Hi folks! Long time no blogging. Sorry! These past 2 weeks have been crazy, but fun. Hubby celebrated the big 4-0 last week and it's been what seems like party after party! When the actual day came, I think he was pretty much over it :)
Party #1 was a surprise party (CLAMBAKE!) down in MA that I organized with some old friend's of Frank's. Had a great time, despite the 98 degree day - thankfully they had a pool!
(picture courtesy of
Sue
)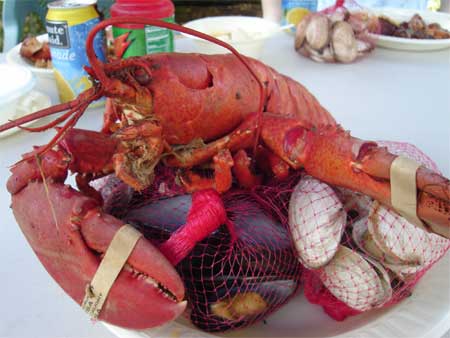 Party #2 was the next day - hosted by our NH friends. The best part of this all was that he really didn't have a clue! I think it'll rank up there as one as his favorite birthdays.... it better! After that w/e of partying, my mom and sister-in-law (with her kids) came to visit for a few days, then we headed down to the Jersey shore for a bit to visit with my high school friends. Phew.... Busy!
I've also been working a bit around the house when I can - it's REALLY hard these days to get anything done when Ben is awake - he's almost 10 months old and a maniac. The non-stop kind of maniac that I've heard boys can be. Keeps me on my toes!
Here's my older helper (I repainted the front door and the door sides from dark green to black - muuuuuuch better).
Have also been working on Syd and Ben's room a little to help define their areas. They share the room - Syd in a bed and Ben in a crib. So far, so good.
I saw the idea for the bird mural in the book
LAST- MINUTE PATCHWORK and QUILTED GIFTS
(if you haven't checked it out, you really should - it's fantastic). The pattern for the birds calls for it to be hand appliqued. Okay - I'm a mom with 2 little kids and I don't have enough time to get my hair cut let alone applique. So, I just used double-sided fusible webbing and top-stitched it. I had an old corkboard and remnant fleece that I used to mount it. Pretty easy project. I think I will go back and make the birds all one color though... I think the silhouette effect would look better. Hindsight...
Speaking of birds, check these cuties out!!!
My crafty sister-in-law Sue made these (she made them for Ben's baptism in June - what a fantastic gift!) and I'm in love . I want them all over the house. Seriously.
If you'd like to make them,
CLICK HERE
for the tutorial by SPOOL SEWING. Beware - I've heard they are pretty addictive!
Have you tried
Sandi Henderson
's adorable Mariposa Applique pattern (the PDF link can be found at her right side-bar)? I finally did (a quick and easy birthday gift) and really enjoyed it - so much that I cut out 10 more sets to make for all of my little girl friends out there. Just need to find the time to make them all...
Hmm... What else... AH! I got a new toy! A
snap setter
! Been eyeing one of those bad boys for a while, and after having enough customer requests for things that would be perfect with snaps, I decided to bite the bullet and get one. So happy that I did! I now add snaps to my wet bag straps (so you can hang them off the stroller, etc), and was able to make a double wet-bag. Pretty cool. Also looking to make a new wet bag / changing pad combo.... stay tuned!
More news on the way - don't want to bore you all too much :) Stacy and I did decide to extend the
skirt-sew along
to the end of August (8/31), so if you wanted to participate, you still can! Check out the entries so far - there's some cute ones!
Before I go... I did find this funny ad in the paper the other day - if only my nails were a serious daily concern...