Hi everyone! I'm still here :) Just haven't had the time lately to sit and post anything. I've missed it! Ben is a month old already and we're starting to get into somewhat of a routine (I think...). Overall he's a great baby - sleeps 6-7 hours sometimes at nights, is pretty relaxed during the day, and takes lots and lots of "help" from Sydney without many complaints. Poor kid has some bad acne and gas right now, but I keep telling myself that it's just a phase... He is going to wonder, though, why there aren't any pictures of him from the age of 2 weeks - 3 months...
I'm slowly getting back to sewing again (just in time for the holidays!) :) House renovations continue, but we have moved my sewing stuff back upstairs to the middle room. I'll take pics of the rooms sometime soon. I still have to make some new bedding and accessories for our room and the guest room/office/sewing room, but the 2 bedding sets that I found on
Overstock.com
will tide me over for a while:
For our room (with chocolate walls and ivory curtains) - stock photo: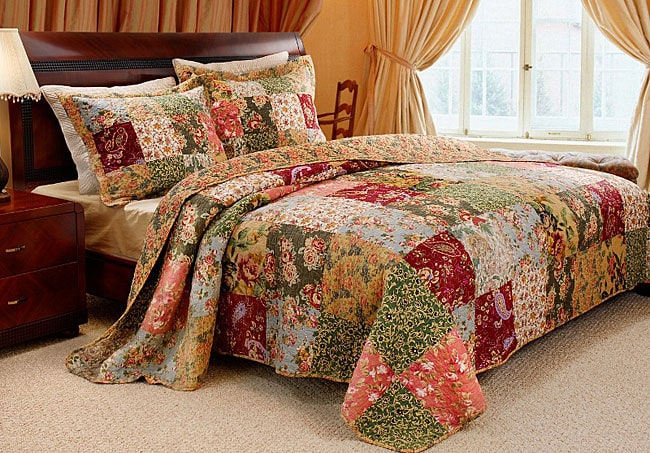 For the middle room (with sage green walls and white curtains) - stock photo: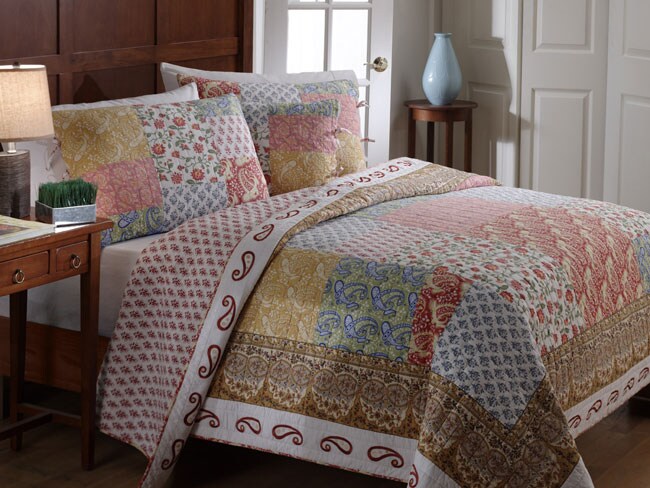 I've got some fun projects on the horizon, like
this bag
(I'll add a lining and pockets), and
this bag
(trying to decide between the
Forest Water Lotus
,
Spinach Water Lotus
, or one of the primrose prints, and these
placemats
(I'm hoping these are easy to make - perfect for Christmas gifts!).
And check out this
AMAZING bag that Lynn made
- I have always wanted to make this bag, but now I think that I *need* to make it. GORGEOUS!!
I finished up some gifts, like these PJ's for Alex (the son of a friend in NY)
And some new scrub hats for hubby: (who doesn't love Charlie Brown?!)
We finally got to see the new
Spiderman
movie, so when I saw this fabric in Walmart last week, I had to snatch it up - it had red Spidey (left) *and* black Spidey (right)!
And in light of the recent HUGE win by the Sox, Syd got herself a new coat :) I used the
Wonder Jacket pattern by Sew Baby
and it was pretty easy! I think that I might take it apart and make the lining out of flannel though... A touch more cozy would be nice (and warm!)
I planned on posting more about
new patterns
and
bags
, but that will have to wait 'til next time!
Oh! I have posted one new Sweet Life Bag (Nolita: Dark Green) in my
Ebay store
:
I love this one! Perfect for your day-to-day goodies or as a project/knitting bag. Mention code MONKEYFREE at checkout and receive FREE SHIPPING! (just send me a request for the updated invoice).
I've also updated my website with a
SLEW of new belts
, so pop by and check 'em out :) I'll be posting a coupon link soon, so check back here within the next day or so!
Hope everyone's been well and are thinking yummy Turkey Day thoughts! ~ Kris