We
love
PlayDoh around here - I'm talking about up to 3-4 hours some days of PlayDoh love...
I finally decided that our first 2 packs need to be retired - one is filled with ~ 6 containers of nasty gray, gummy, yucky PlayDoh (from when Sydney decided early-on to combine all of the colors). The other pack still has it's original colors intact, but they crumble pretty easily and are very hard to work with.
Out with the old, in with the new... BUT.... did you know that the PlayDoh brand containers aren't recyclable?! Hubby thought I was nuts when I told him that I am boycotting buying any more of that particular brand anymore (given Sydney's PlayDoh love), but seriously - there's got to be other options out there that are more eco-friendly.
So the search begins...
I can make my own playdough:
- recipe on
HowtoMe.com
- recipe on
eHow.com
Or can get some of the ecofriendly playdough that's out there:
- Ecoplaydoughfactory.com
"Eco play-dough is delivered to your door using recycled pails and air tight tamper-proof lids. On collection day simply leave your pail and old eco-dough out for collection and one of our team will pick up and replace with fresh,

hygenic

Eco Play-dough

. EPDF will then recycle your used Eco-dough to create a by-product you can use in your Garden -

Eco Fertiliser

.
"
-
Over the Rainbow
-
Mary's SoftDough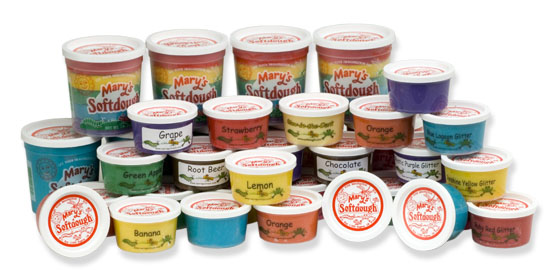 I'm thinking scented playdough is a
nice
idea, but given that kids already like to eat the regular stuff, I'll stay clear of the "flavors" for a few years :)
I will give making it a try, but I've heard from several friends that it's pretty messy (which could be fun....) and doesn't really work that well. Would love to hear ideas / feedback from any of you guys that have tackled this issue already. Thanks! ~ Kris